---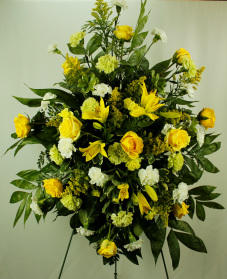 Thank you
for considering A Dove's Nest as your funeral or memorial florist.
A Dove's Nest offers
custom floral arrangements by Nancy Cole a local florist
in the form of a spray, wreath, cross, heart, basket or vase.
A Dove's Nest offers
Free Delivery
within
Cobb County
and orders
$125.00 and over.
We deliver to funeral homes, churches, cemeteries and private homes across metro Atlanta.
Please note: We need a 24 hour notice on all floral arrangements
Call 770-575-0616 to order flowers
Please visit our
Photo Gallery
---
We can offer you the best price if you chose a "Designer Choice of Seasonal Flowers" and a color theme.

Shown below are floral designs we have done for clients each arrangement will include but not be limited to the flowers as describe.
Roses, Carnations, Lilies, Hydrangeas, Asters , Daisies, Mums, Sunflowers, Delphinium, Baby Breath and Greenery
Baskets
Starting @ $65.00

---
Crosses and Sprays
32" Starting @ $135.00
---
---
Wreaths and Hearts
18" starting @ $85.00 24" starting @ $135.00
---
Please Note: Urns, or statues in the photos are not included.
Cremation,
Starting @ $65.00
Personalized Memorial Arrangements
Starting @ $85.00
We can customize a memorial arrangement to honor your love one such as a sportsman, love for a garden, beach etc.
---
Caskets Sprays
Starting @ $185.00


---
Thank you! for allowing us to design your floral arrangement for your loved one.

You will receive a confirmation phone call
---
---
Dove's Nest Enterprises, LLC , DBA , A Dove's Nest®
All Photos and Videos by Nancy V.or Charlie Cole
Copyrighted 2006, 2008, 2012 ,All Rights Reserved
Web Design by Nancy V. Cole