---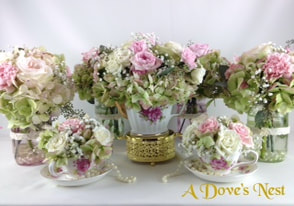 Thank you so much for making my flowers far more beautiful than I ev...er imagined Nancy Cole!!!!! You thought of everything and took this huge burden off my plate and made something that's usually complicated so very easy for me.I was shocked and how many things you thought of doing and I had forgotten to even consider.You saved my life!!!! Thank you again!!!Amber Frier
---
---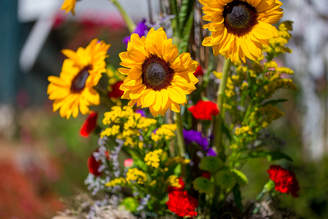 Congratulations! and Thank you for considering A Dove's Nest® as your wedding day florist. We are always honored to be a part of your wedding day celebration.

When planning your budget for flowers there are a few elements I want you to consider. Fresh or silk flowers, Indoor or outdoor wedding, what time of year and colors. Your budget should also include a priority list that will complement your style and wedding theme.

---
I personally think the Ceremony is the most important part of the celebration.
If you are on a tight budget, spend it here after all, your wedding day is what you've been dreaming about for years.

A church looks gorgeous with flowers on the alter or pews, for an outdoor summer wedding, silk flowers lining the aisle is a great choice.
Glowing candles in lanterns or glass for an evening or night wedding is breathe taking.

The best part is you can transfer your flowers to the reception hall.
​ It's a win-win situation.

As you walk down the aisle your groom and guest will first take notice on how beautiful
and radiant you look, your wedding dress and the Bouquet you are carrying.

---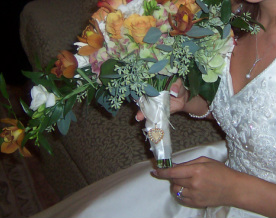 Your bouquet will tell it's own story with style, color, and flowers. I like to think of ways to make your bouquet special, in the photo we tied the bride's late grandmother's locket to her bouquet. After the ceremony we removed it for safe keeping, a little personal touch that the bride will treasure forever.

You may want your bridesmaids to carry a single flower such as a rose or sunflower or a nice hand tied bouquet that will enhance the look of the wedding.

After your beautiful ceremony comes the Reception, this is the time to celebrate with family and friends.Weather you are having a buffet style or a formal dinner with assigned tables.The flowers play important part in creating the mood and style of the party.

---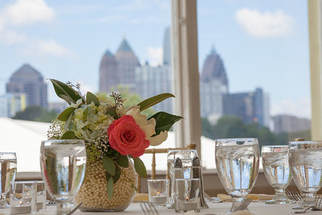 Your style, the size of the room and the height of the ceilings will determine the design of the floral arrangements. You may want something small and low or a tall elaborate arrangements that will make an entrance statement, adding candles or some other form of lighting such as fairy lights. is always a nice touch. Taper candles are very rarely used anymore due to fire laws, most of the time the candles have to be within the glass or flame-less.
​
Floating candles with orchids or rose petals, mason jars with baby-breath, sunflowers in metal buckets, large arrangements with hanging crystals, are all very popular with today's brides.

---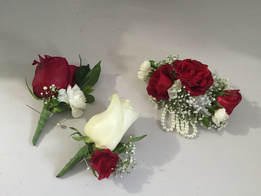 We can make your Personal Flowers inexpensive but tasteful.

Your Mother and Grandmother's corsages should be very elegant and not over sized, especially if they want the corsages pinned to their dresses. They may also prefer a wristlet style corsage, a small flower or a tussie mussie to carry.

The Groom and his Groomsmen, Father and Grandfather would rather have something small, and care free. Groomsmen in some cases prefer a handkerchief in their tux over wearing a flower due to allergies. A single rose or carnation is an all time classic boutonniere and is still very popular with today's Grooms.
---
---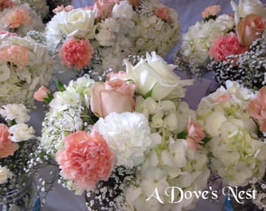 We would love to hear from you! We
offer free consultations.
Please call Nancy @ 770-575-0616 , email
adovesnest@yahoo.com
or fill out the contact form below to schedule an appointment.
Visit our Photo Gallery for more information and photos.
---
---
---
Dove's Nest Enterprises, LLC , DBA , A Dove's Nest®
All Photos and Videos by Nancy V.or Charlie Cole
Copyrighted 2006, 2008, 2012 ,All Rights Reserved
Web Design by Nancy V. Cole