Dove Displays
---
The little white ring neck doves have always been a part of life's celebrations.Your family and friends will enjoy watching them snuggle and hearing the sounds of them calling to their mates.

We offer Gift Certificates for those special moments or in lieu of flowers for funerals

---
Rain, shine or night events, the beautiful white doves can be a
part of your celebration.

We offer display cages in many different styles and
sizes for weddings, funerals, special occasions and holidays. These cages can be displayed for the reception hall, garden, church, ceremony site or funeral home.
We can also set up a dove display for a graveside service.

These doves are very domesticated and will not be released.
We will offer our doves food and water before and after your event.
The doves will not be eating or drinking water during your
celebration.
Our prices and service areas are based on a 50 mile radius of Marietta.

We have been trying very hard to keep the
cost down. We have not had a price increase since we started the business in 2004, but due to the fact of the current gas prices
Any event over 55 miles of Marietta may be subject to a fuel charge between $10.00-$25.00
Thank you for your understanding


Prices includes set up and delivery

To help you plan for a dove display, the photos of our
cages are with dimensions of width, height and depth.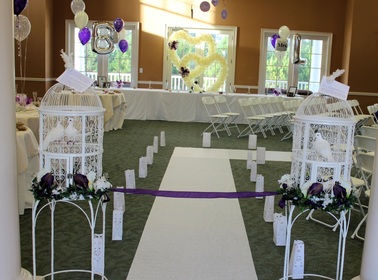 Wedding Aisle Dove Display
Dove Display
$150.00
This price is for a one time rental 1-2 hours.
Example; ceremony or reception ,ceremony, funeral home or graveside

$250.00
This price is for a 2-4 hour rental.
Ceremony and reception at same location
Example; out door ceremony and indoor reception

We offer a $50.00 discount if you have a Dove Release and Display at the same location.

There will be no discount offered if the ceremony and reception are two different location.




---
---
We now offer online Contracts.

We hope this will make the process of securing our services easier for you as

you plan your event.

Please check our

availability

before sending a contract or making a payment.
---