Our Story
---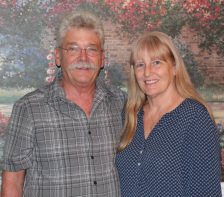 Our 40th Wedding Anniversary, 2015
Charlie and I
are originally from New Orleans Louisiana. We have been married for 42 years with four children and five grandchildren. We moved to Atlanta in 1984 on a music contract and performed as a hotel and lounge act for over 25 years as the duo called "Easy Street". A little band from the "Big Easy". We retired from the music business in 2004.
Charlie is a Vietnam Veteran, musician, song writer and a retired school bus driver for Cobb County Schools.
He has been training birds for over 50 years. His dedication to the doves is the reason
A Dove's Nest has been so successful.
I myself, Nancy am a certified wedding planner, florist and business manager. I answer the phones, prepare for events, I handle all marketing including videos, web design, photographs, bridal and trade shows.
Charlie and I enjoy spending time with our family and friends, playing music, caring for the doves and of course hanging out with our dog Fideaux .We also enjoy working in the gardens. Please check out our video "
Loft and Gardens"
to see where our doves call home.
---
A white dove release has a special meaning to all of those who choose to have one at their wedding, a loved one's funeral or special occasion.

Charlie and I would like to share our story of A Dove's Nest, a story of faith and inspiration.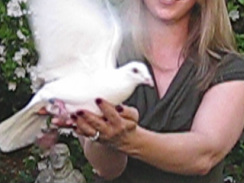 Dionysia Releasing A Dove
A Dove's Nest was founded in 2004 as a white dove release and
dove display company.

While on vacation from a very physical job as a manager/ baker, I spent the week full of aches and pains asking myself , "What else could I possibly do"? Here it was the week of Christmas, there was no baking cookies, or visting with family and friends. My back hurt so bad that I couldn't go to Christmas Eve mass, so I went to bed early feeling nothing but pain and despair, lying on an ice pack with tears in my eyes.

That night I had a dream that I was releasing a white dove over a beautiful green pasture full of wildflowers. The dove glowed in the sun light and her feathers were soft as silk.
This wasn't just a dream but an answer to my prayers. I can't even begin to describe the feeling of calm and peace that came over me. I woke up and for a moment I forgot the pain in my neck and back, I felt like a little kid on Christmas
morning, I just received the best present that I could ever wish for and it was only a dream.
I was so eager to tell Charlie about my dream, he just smiled and said "A Dove Release". I was a little surprised there was a name for my dream. I 'v never heard of a dove release.

Charlie told me there was a business of releasing white doves for wedding, funerals and special occasions. All of this sounded really strange to me, but I started checking into this type of business. I thought what a wonderful idea, I felt very blessed and I wanted to share this experience with others. Charlie who has been raising these birds since childhood turned my dream into reality. A Dove's Nest was created New Year's Eve 2004. I had my first dove release for a wedding in January 2005 , I quit my baker's job in May and years later we continue to have a successful dove release business in the Atlanta metro area.

Floral has always been a part of our business, I've always loved floral design and gardening. Since our first wedding in 2004 I'v decorated the baskets and dove cages in silk or fresh flowers to match the colors of the event. I never thought of offering a separate service, to me doves and floral went as well as peanut butter and jelly.

In 2009 I started taking floral design classes to learn the art and technique of design.I completed classes in wedding design, personal flowers, funeral and memorial flowers, elegant centerpieces, beautiful bouquets and natural beauty.
I completed a floral design certification program at the Halls Atlanta Floral Design School in the spring of 2014.
There is always something new and exciting to learn about floral design so I will always continue to educate myself through classes.I'm a proud member of the Georgia State Florist Association and The Society of American Florist.

Charlie and I are committed to each other, our dove release and floral design business, we love what we do and it shows.

Nancy Cole

---
Our Staff
---