Funerals, Memorials and Cremations
A dove release for a funeral, cremation or memorial is very inspiring and uplifting for saddened hearts
Doves symbolize ; Love, Grace, Hope, Wisdom, Understanding, Strength, Peace,Comfort and Faith.
We offer Gift Certificates , a dove release is a beautiful gift of a loving memory
Click the links
Funeral & Memorial Contract Form
---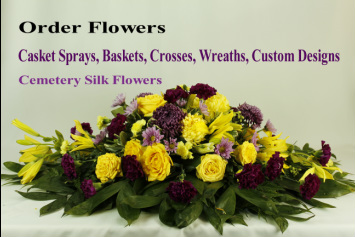 Click the Photo to Order Flowers
"Because I am a Hospice Chaplain, I occasionally need to refer a family for a funeral to the Doves Nest. For an event last Friday Nancy
brought 3 of the most beautiful white doves to us in a white basket covered with flowers.
When we released them I could see so clearly their symbolism as they rose and circled above us and then flew away Home -They are so beautiful, so spiritual."

Daphne Clement, Chaplain
---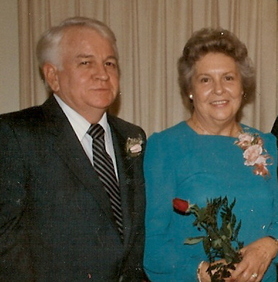 In Loving Memory of Charles and Dionysia Varnado
Losing a loved one is the most difficult experince we all face in our lifetimes.
We may lose a loved one to an accident or a long illness. We have no control over the time or cause. What we do know is losing our loved ones will change our lives forever. They have given us so many gifts in our lives. They have brought us laughter and have shared our sorrows. They may
have taught us a trade or given us a great recipe that we will hand down to
generations.
At the time of their passing they give us a final gift.
A gift of a memory and love that will never end.

Nancy Cole
---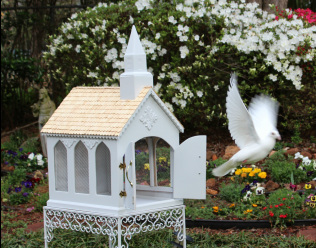 Chapel Spirit Release
The doves can be released from a basket or chapel. The dove representing your loved one will always be placed in a basket by itself.
The baskets can be decorated in silk or fresh flowers on an individual basis to honor your loved one. There is an extra charge for fresh flowers.

Our prices and service areas are based on a 50 mile radius of Marietta.
We have been trying very hard to keep the cost down. We have not had a price increase since we started the business in 2004. Due to
the current gas prices any event over 55 miles of Marietta maybe subject to a fuel charge.
Thank you for your understanding

All packages include; ceremonial reading and personalized memory cards of the dove release.

You may also request a song of choice to be played while the doves are in flight.
There is no charge for the reading, cards or song. We do this as a complementary service.
If you only request the doves, there will be no discount in price.

We can decorate the Dove Release Baskets and Dove Displays with fresh flowers so the arrangements can be taken with you, given as a gift or leave on site for an extra cost.
---
---

Spirit Dove Release
$150.00
One beautiful white dove is released from a basket, chapel or your hands to symbolize your loved one.

A Guardian Angel TM
$175.00
Two white doves are released. The Spirit dove is released
with the Guardian Angel dove , who will guide the Spirit home.


The Trinity Release
$200.00
Three doves are released. Three doves to represent the Holy Trinity
Father, Son & Holy Spirit.

Heavenly Journey TM
$225.00
Four doves are released. Three doves to represent the Father, Son and Holy Spirit.The Spirit dove will join the Trinity for the Heavenly journey home.

Going Home TM
$275.00
Eight doves are released. One dove to represent your loved one. Seven doves will be released representing the seven gifts of the Holy Spirit; Wisdom, Strength, Honor, Glory, Understanding, Praise and Blessings.
Revelations 5:12
Flock of Angels TM
$350.00
A flock of twelve doves will be released to represent the love and prayers of family and friends. The Spirit dove and Angels will circle the sky as they journey home to eternal peace.

Celebration of Life Release TM
$500.00
Twenty one doves are released to represent the
Celebration of Life. The doves are released to show a spectacular display of Love, Pride, Honor and Glory.
Dove Display
$150.00

We offer Dove Displays for the church, funeral home, hall,
your home or graveside service.
You may choose to have the dove display for the family viewing or the funeral, cremation, or memorial service.

The sweet sounds of the doves will bring a sense of peace and comfort to you, your family and friends.


---
We now offer online Contracts

We hope this will make the process of securing our services easier for you during this difficult time.

Please check our

availability

before sending a contract.
---