Wedding Doves

---
A dove release for a wedding symbolizes; Love, Purity, Unity, Devotion and Fidelity
The doves will also symbolize the journey of a lifetime together


We offer Gift Certificates, A dove release or display makes a beautiful and unique giftClick the links Online Contract Print & Mail Contract Gift Certificates Poems
---
Dear Nancy,

I want to express how pleased we are with the quality of service
A Dove's Nest has provided for Precious Moments by Kenya this past weekend. The event was a complete success and would not have been possible if it weren't for your professionalism and dependability. We truly appreciate your dedication to customer satisfaction and look forward to doing more business with you for years to come.

Kind regards,
Kenya Evans-Milligan
In ancient tradition, a groom would give his bride a dove as a symbol of his devotion.
Behold, you are beautiful my love, Behold, you are beautiful your eyes are as doves behind your veil, behold
Old Testament, Song of Solomon 4:1
Our prices and service area are based on a 50 mile radius of Marietta. We have been trying very hard to keep the cost of our service down. We have not had a price increase since we started the business in 2004. Due to the current gas prices any event over 55 miles of Marietta maybe subject to a fuel charge between $10.00-$25.00.
Thank you for your understanding

We can decorate the Dove Release Baskets and Dove Displays with fresh flowers so the arrangements can be taken with you, or given as a gift for an extra cost.

---
Sweet Heart Release TM
$175.00
Two white doves to be released by the bride and groom from a decorated heart shaped basket. If a handheld release is preferred,
our handler will show the bride and groom how to hold and properly release these gentle white doves.

Unity Release TM
$225.00
Four white doves are released. Two doves will be released by the bride and groom and two doves will be placed in two baskets for the mothers , fathers or other members of the family to release.
This release will symbolize the unity of the families.

Doves mate forever and will always remain faithful

Friendship Release TM
$275.00
Eight white doves are released. Two doves will be released by the bride and groom and six doves
will be placed in decorated baskets for the bridesmaids and groomsmen to release.
This will symbolize the journey of a frienship that wil
last forever.

Flock of Joy Release TM
$350.00
A flock of twelve doves will be released. Two doves will be released by the bride and groom. Ten doves will be placed in two baskets for the bride and groom's family to release. This represents the love of family and friends
who share this special day with you.

We want to make sure that your dove release is release everything you hope for. If you decide to Hold the Dove, this video will help you to understand what to expect.
Spectacular Ceremony Release TM
$500.00
Twenty doves are released. "You may now kiss your bride"; "I now introduce you to Mr. and Mrs" or as the bride and groom walk down the aisle together. The doves will be released for a spectacular ending to your ceremony.
These doves will be hidden in baskets and will not be seen by your guests until the end of the ceremony.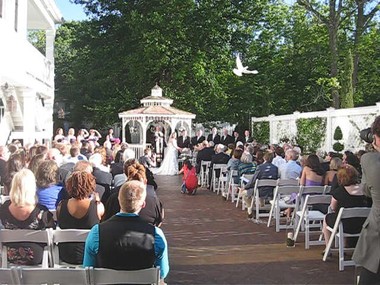 Memorial Release, Roswell
Memorial Dove
$150.00
One dove may be released to represent a parent, grandparent or special loved one. The dove may be released in the beginning of the ceremony as the bride walks down the aisle, in the middle of the ceremony during the lighting of the unity candle or at the end of the ceremony.

We offer a special memorial poem for this release .
A Memorial Dove may be added to any release package for $25.00.

---
Doves can be released by the children of the bride and groom as part of a release package or $25.00 per dove.
Example; A Sweet Heart Release with one child $200.00

You may add a Dove Display for the gift table, ceremony or reception to any packages for $100.00.
This is a $50.00 Discount and must be at the same location of the release.



---
We now offer online

Contracts

.

We hope this will make the process of securing our services easier for you as

you plan for your wedding.

Please check our

availability

before sending a contract .
---